Digital Marketing Strategy For Beginners (updated for 2023)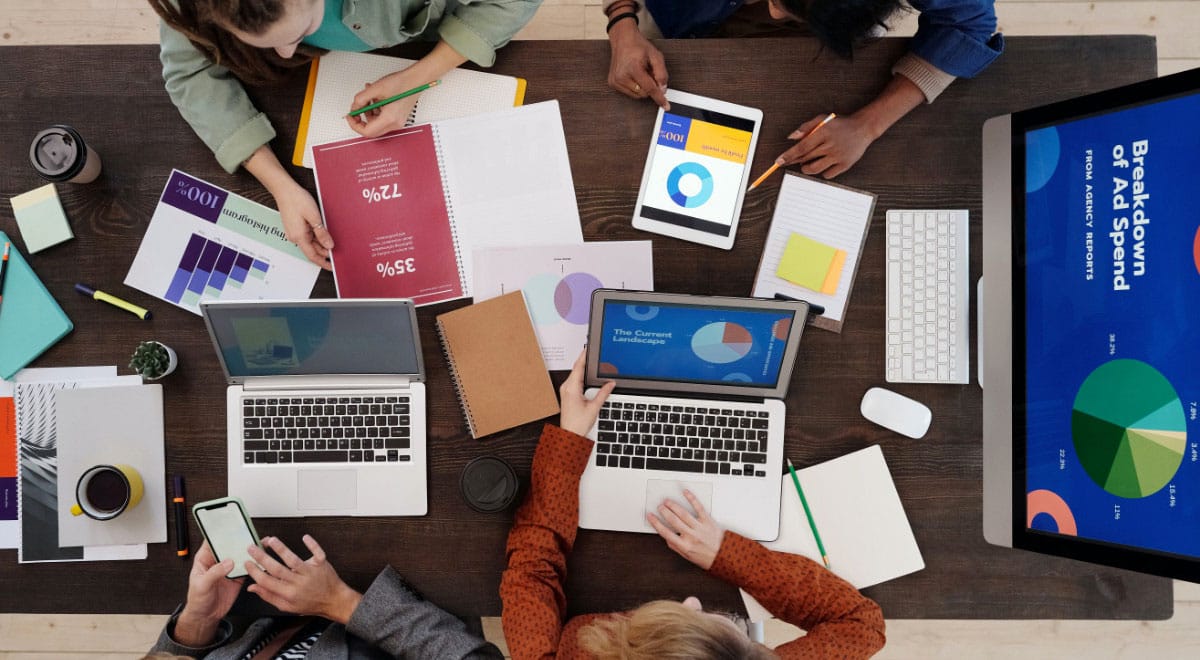 So you need a digital marketing strategy, but don't know where to start? You've found the right article. Even if you're a seasoned marketing veteran with your beginner days far behind, there's still value in going back to the basics. Digital marketing changes fast, and many of the topics covered here could stand alone as their own blog post. This is a broad article to help you get started in choosing the right objectives and channels, and wrap it all up into a marketing plan. Let's dive in.
Why Digital Marketing Is Important
To quickly see how important digital marketing is to businesses, open any social media account you use. I bet you will be served an ad or promotion within seconds. Currently, companies all over the world spend over a third of their entire media budget on digital marketing. Statistics like this keep on rising year-over-year. This growth is due to the many benefits of digital marketing. Here are just a few of them:
Cost-Effectiveness
You could spend hundreds of thousands of dollars on traditional marketing methods such as billboards or television, and it would still be effective. But you will find the ROI to be much greater in the digital space. Digital marketing also levels the playing field for smaller businesses. If you run a coffee shop and Starbucks moves in next door, you still have a fighting chance thanks to the cheaper cost and the ability to focus on local efforts.
Targeting, Tracking, and Measurability
Thanks to the data-driven platforms used in digital marketing, targeting can be granular, actions can be tracked, and performance can be accurately measured. Digital marketing allows you to find internet users wherever they hang out online, which is at least 8 different social media accounts per user on average. Every ad, every action, and every step of the user's journey can be measured to see the value of your marketing efforts.
Consistency and Flexibility
With digital marketing, you can craft a system that consistently delivers leads to your business. Since you are getting more bang for buck, you can continue this pipeline indefinitely. If it breaks or starts dropping in performance, you can quickly change things up or conduct some A/B testing.
The 5 Digital Marketing Objectives
Before you can start reaping the benefits of a digital marketing strategy, you need to figure out what your goals are. There are 5 primary marketing objectives, and although it's possible to do them all, it's generally more effective to focus on one or two of them at a time. Let's take a look at each one.
Brand Awareness
The goal of the brand awareness objective is to increase exposure of your business or product and get in front of potential customers. Although sales are the ultimate goal, that's not what we're trying to achieve here. This is a top-of-funnel approach to keep your brand top-of-mind. Choose this objective if you need more people to know who you are and what you're about. Impressions, reach, and views are the metrics to watch here. Display, video, audio, and paid social are the ad formats to use. Content marketing and video marketing can be great for organically building brand awareness.
Traffic
The traffic objective is all about getting more people to your website. More website traffic increases the chances of a conversion action taken on your site. Choose the traffic objective if people already have a good idea of who you are and what you sell, and you want to funnel them to your main online hub. Clicks, sessions, and click through rate are the metrics to watch. Display, paid social, and search are the ad formats to use. Content marketing will also increase traffic.
Leads
A lead is someone who has converted on your site by taking whatever desired action you wanted them to take. This action could be anything from clicking a call-to-action (CTA) button to submitting a form. If leads are your marketing objective, then you need to focus your efforts on getting website visitors to convert. You can also gather leads from other sources, such as lead forms on Facebook Ads. Choose this objective if you already have some traffic, but you want to get qualified leads from that traffic. Conversions and conversion rate are the metrics to watch. Paid social and search are great ad formats to use for leads. However, in-depth content marketing and email will likely gather more leads over time than advertising.
Sales
This one is self-explanatory. Sales are when someone purchases your product or service. When your marketing objective is sales, you need to focus on the bottom of the funnel where all of your qualified leads hang out. Choose this objective if you have gathered enough leads from other marketing efforts and want to turn them into paying customers. Retargeting is a great ad format to use here because most people buy things only after several touchpoints with the brand. Ecommerce, search, and paid social are also useful for sales-focused advertising. Don't forget about your sales team and other internal efforts. If you sell directly from your website, then conversion optimization is definitely an area to focus on. Lastly, email marketing can be a powerful tool for sales.
Retention
This last objective is what separates good brands from great brands, and it all happens after the sale. The retention objective focuses on nurturing the relationship with your customer and encouraging them to stay with you. Choose this objective if you want repeat customers and brand loyalists. Email marketing, loyalty plans, rewards programs, and retargeting ads are all examples of channels that are useful here.
Types Of Digital Marketing
All digital marketing efforts can be categorized as either organic and paid. Let's take a look at them individually.
Organic
Organic marketing requires no direct advertising spend and is useful for building trust and gathering leads. It takes longer to build up an organic presence online, but the return on your investment is often much higher than paid advertising. This growth is largely fueled and supported by content marketing. Here are some examples of organic marketing channels:
Social Media

Blog

YouTube

Email

Podcast
Whitepapers

SEO

Conversion Optimization

Website

Word Of Mouth
Paid
Paid marketing is synonymous with digital advertising, where you spend money to make money. If organic marketing is the long game, paid advertising is the short game. It is effective at gaining exposure and driving traffic in a short amount of time. Assuming everything is set up properly and you have a positive return on ad spend (ROAS), then the more money you spend, the more money you'll make. Here are some examples of paid marketing channels:
Search Advertising

Display Advertising

Video Advertising

Over-The-Top (OTT) or Connected TV (CTV) Advertising
Social Media Advertising

Influencer Marketing

Ecommerce Advertising

Mobile/SMS Campaigns
Omnichannel Marketing
Any one of the marketing channels mentioned in this article so far can be effective and beneficial to your business. However, they are far more effective when seamlessly working together. Think about it. If organic is the long game and paid is the short game, why not use both and win the game? Utilizing all channels together is known as omnichannel marketing, and it's essential for your overall digital marketing strategy.
What is omnichannel marketing, exactly? Omnichannel is creating an experience for your customers (or potential customers) with your brand that is seamless for them across all platforms and channels. For example, instead of only offering support on your website, you would offer it on the website, mobile app, email, live chat, and phone. I can buy a phone plan from Verizon from their app, in store, or over a phone call. The key is to make the experience identical and consistent no matter where or how the customer interacts with your brand.
So, how is this different from multi-channel marketing? Omnichannel is a seamlessly integrated experience across all platforms. While multichannel maintains a presence on many platforms, it may not be on all platforms and the experience isn't connected. Reaching customers on your website, Facebook, and YouTube is good, but creating the same experience and messaging on all those platforms across every device is better. Omnichannel marketing takes into account every possible way a customer can interact with the brand.
Marketing Plan
Now that you know all of your options, what should you do? How do you know what channels to use, how much to spend, and when? These can be daunting questions, but the answer is fairly simple. You need to research what others are doing, use that information to build your own strategy, and then put it all into a written plan of action. Put simply, you need a marketing plan, and it typically comes in two pieces.
So, how is this different from multi-channel marketing? Omnichannel is a seamlessly integrated experience across all platforms. While multichannel maintains a presence on many platforms, it may not be on all platforms and the experience isn't connected. Reaching customers on your website, Facebook, and YouTube is good, but creating the same experience and messaging on all those platforms across every device is better. Omnichannel marketing takes into account every possible way a customer can interact with the brand.
Research
This part of the plan contains all of your market research. You should examine your past marketing efforts, as well as the marketing and advertising of competitors in your industry. Don't aim small. Go big and look at what everyone else is doing. You can use other processes to help, such as SWOT analyses or SEO audits. Find areas of the market that are underutilized and other areas that do really well for other brands like yours. When you feel like you've gathered enough information, put it all in the first part of your marketing plan document.
Strategy
The research from the first part of the plan combined with your new ideas is what will become your strategy. The strategy contains your target audience personas, brand positioning, organic channels, paid channels, and marketing objectives. You need to decide how you want your brand to be perceived in the marketplace and how you will interact with customers. Devise how you will attract the attention of customers, what you will do with them once you have their attention, and how you will retain them after they buy. Your marketing strategy can be boiled down to what you will do and how you will do it to achieve your marketing objectives.
How To Develop A Digital Marketing Strategy
Everything mentioned in this article can be summarized into a step-by-step process like this:
Conduct business and market research
Choose your marketing objective
Choose your marketing channels
Create a marketing plan document
Build a seamless, integrated experience across marketing channels
Execute your strategy
Measure your performance and make data-driven decisions
If you are a small business, focus on one thing at a time. Use your bandwidth wisely and play to your strengths. If you are an enterprise company, you can focus on several marketing objectives, as long as there is a team in place for each channel and someone is in charge of maintaining the integrated experience for the customer.
Sometimes, small businesses just can't keep up with competitors in their industry, and enterprise companies often don't have the time to keep up with rapid changes of digital marketing. We work with both small and large brands at our agency. If you need help developing or executing your digital marketing strategy, then send us a message. We're always up for a chat!