A Fresh Brand for Fresh Food
Named one of the "Hottest Fast Casuals in 2020," fresh&co is a premium restaurant focused on serving healthy food that is affordable and accessible. With 19 corporate locations and some franchising, they have become an industry leader in NYC. Fresh&co wanted to expand this success nationally, but before that happened, they needed a brand re-fresh (pun intended). We were selected during the RFP process based on our branding concepts and we've been preparing fresh&co for the big leagues ever since!
Year 2021-2022
Services
Branding
Copywriting
Visual Design
Print Media
Social Media
Content Creation
Product Design
Environment Design
Customer Research
A Branding Identity Crisis
fresh&co was already well-established prior to working with us. They had the branding, they had the marketing, and they had the audience. But they lacked cohesion and consistency, and they weren't sure who they were as a brand. The goal was to create a new brand strategy with more unified design and better positioning. The story of fresh&co needed to be told visually through creative interior design elements. The challenge was to create an identity that would follow the brand guidelines while also paying homage to each unique local environment.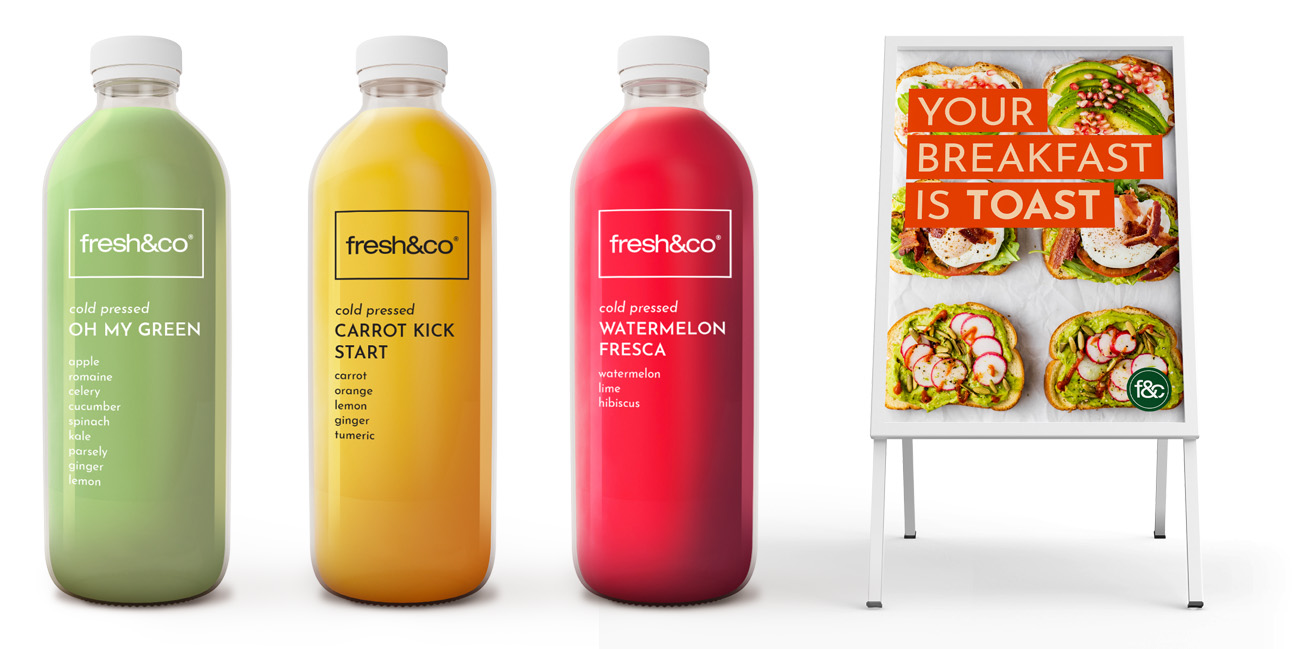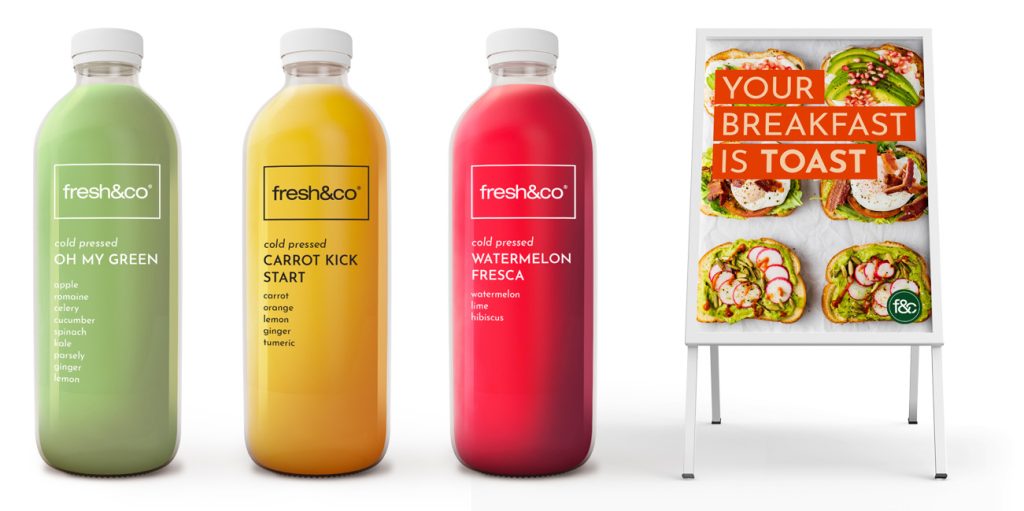 Freshening Up
Before redesigning all the fresh&co assets, we needed to go back to the source and truly understand the essence of fresh&co. We traveled to New York and visited store locations, talked strategy, and met customers. Our immersive experience inspired us to create an authentic identity of the brand, and created a new graphic standard guideline and messaging that reflects their true nature and real-life clinetel. With these elements established, we were able to move forward to the last phase: designing all branded assets. We applied the new branding to everything: restaurant interiors, wall art, signage, menu boards, apparel, packaging, seasonal menus, social media posts, to name a few. We even curated custom scents and playlists.
Aa Bb Cc

123456789

Risus commodo viverra maecenas accumsan lacus vel facilisis.

Aa Bb Cc

123456789

Risus commodo viverra maecenas accumsan lacus vel facilisis.
Plum
Melon
Blueberry
Carrot
Lemon
Wheat
Fresh as F$$$
With a fully updated brand, fresh&co is now prepared for national expansion. The result of this is retaining a clear position in the market and a standardized identity no matter how many restaurants are opened. Every location will follow the brand guidelines to keep the brand consistent, but each restaurant will display a touch of local inspiration within those guidelines.
fresh&co Is Just Made, Just For You.
Fresh&co came to us with an established brand and an expansive vision, but they had piecemeal assets and didn't know which direction to go. We helped them build a stronger foundation that future locations could easily follow, whether corporate or franchise. Now, when customers visit a fresh&co they will have a unique yet familiar experience.
For more information on fresh&co, visit their website.