Premier Training For Manufacturers
South Carolina Manufacturing Extension Partnership (SCMEP) is the premier training company for manufacturers in South Carolina. They offer in-person and online classes to bring companies and employees up to date with the latest advancements and knowledge. We were given the opportunity to be their agency of record for the last 6 years, and in that time we have done everything within our power to help them reach their goals.
Year
2014 – 2022
Services
Web Design/Development
Branding & Identity
Stationery & Collateral
Video Production
Video Advertising
Display Advertising
Search Advertising
Print Advertising
Public Relations
Analytics
Copywriting
Graphic Design
One Agency For All Projects
SCMEP sent out a national RFP to find an agency of record. They needed a team that could manage everything related to analytics, print/digital design, press releases, advertising, marketing, video production, and website. As a full-service agency, we were up for the challenge. A lot has happened over 6 years, so we will keep it simple and summarize the highlights.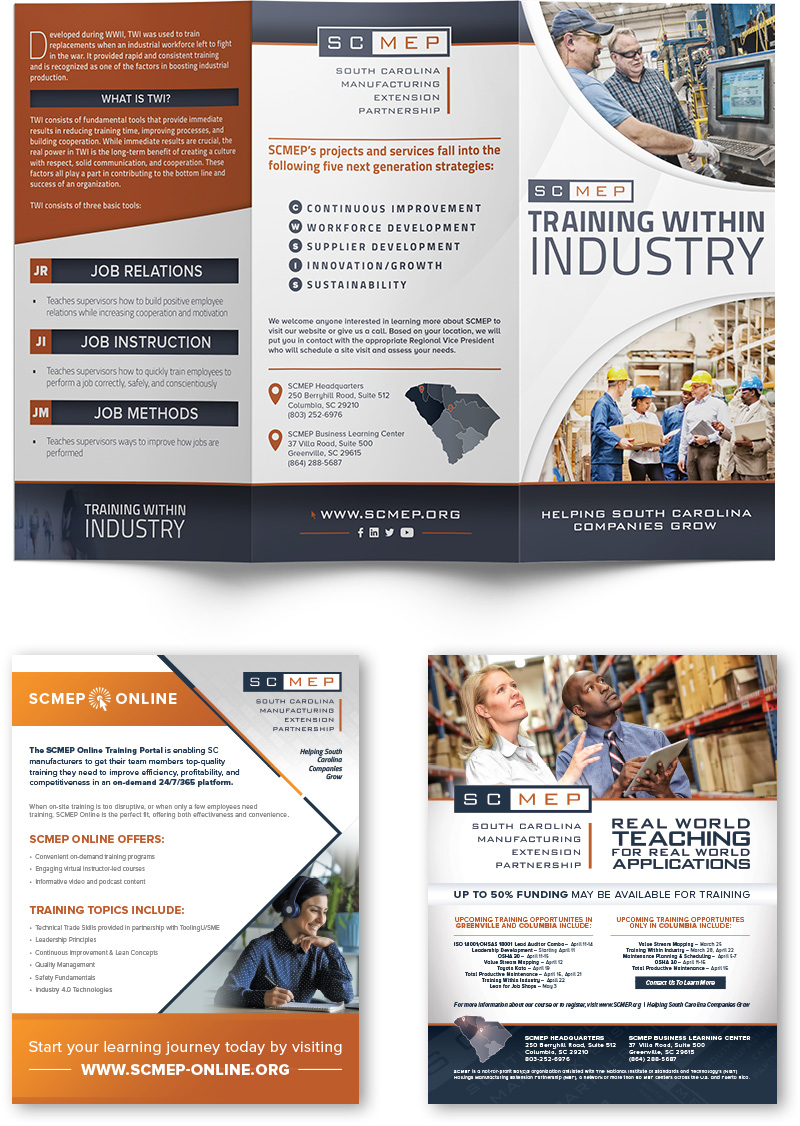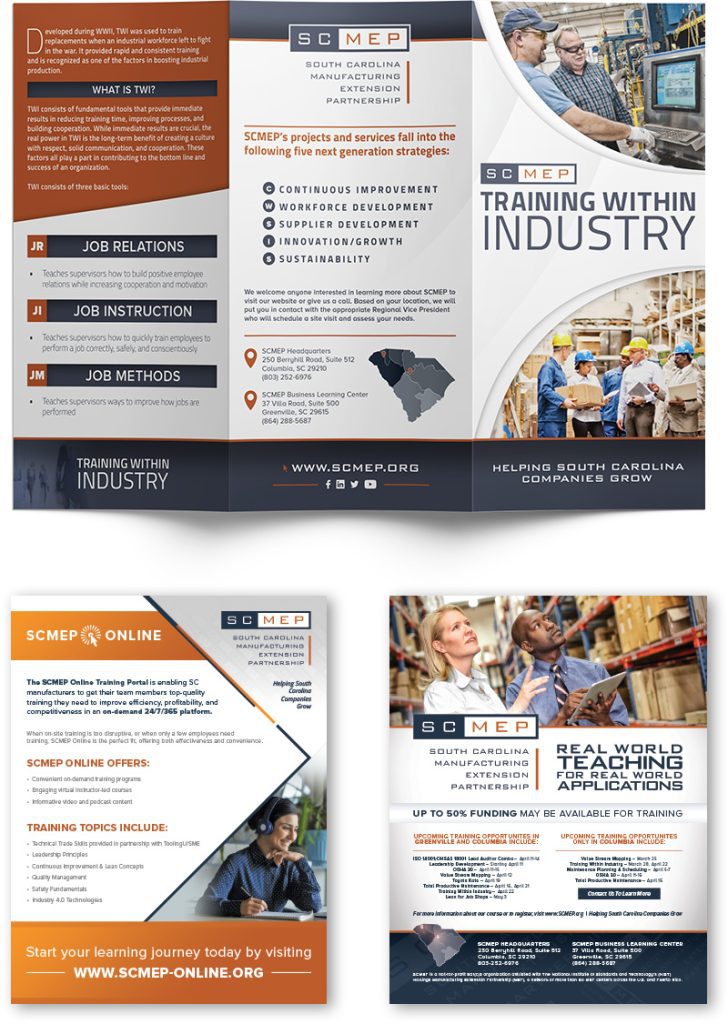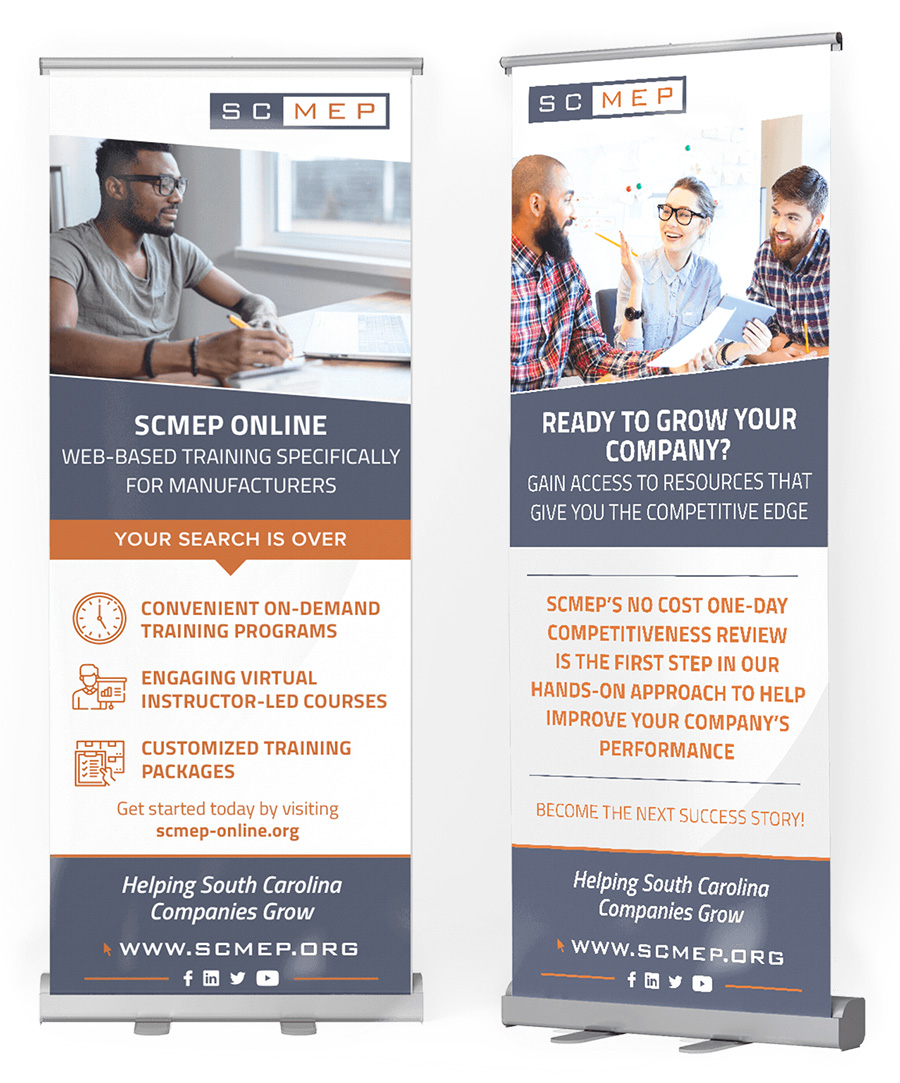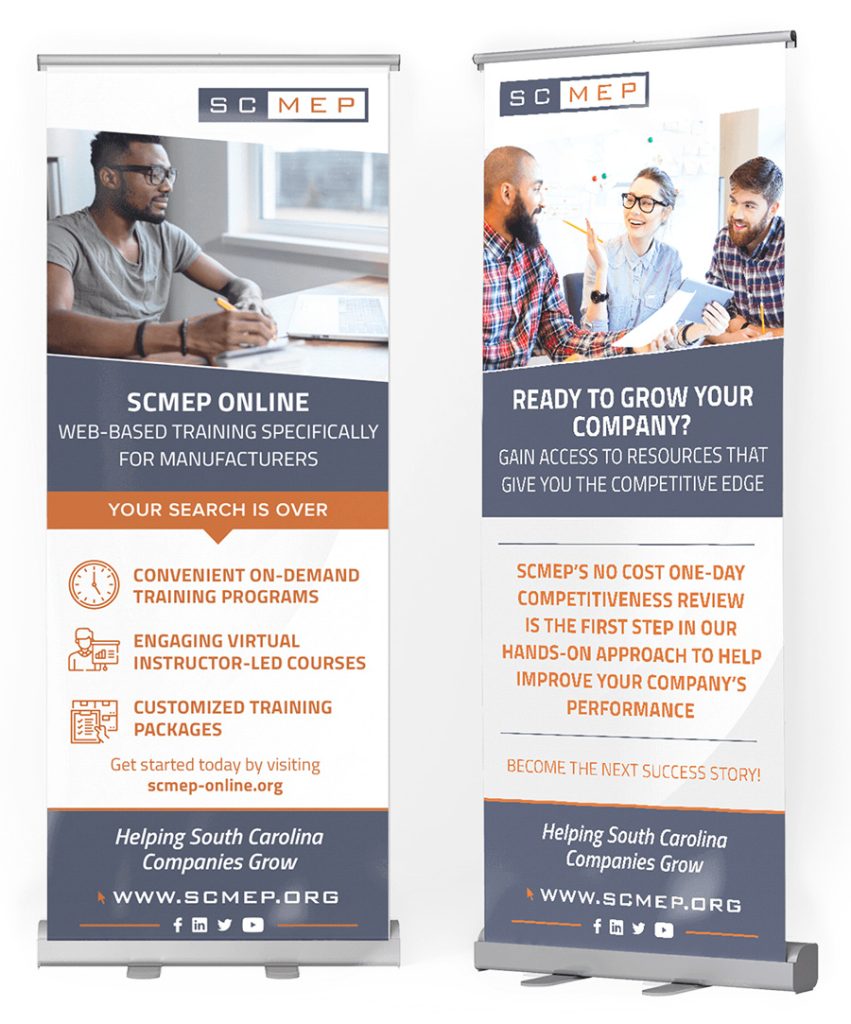 Branding, Marketing, And Everything In Between
One of the biggest projects was guiding SCMEP through a complete rebrand. Everything from the logo to all the marketing needed to be updated. Once they had a new solid brand, everything else fell in line. From search and display on Google Ads to television and radio, we have designed and managed many different campaigns with various purposes. Our favorite? Probably the one with the caveman. SCMEP also needed creative content such as videos and print. Some designs were for ads and some were for company branding. Testimonial videos, display ads, collateral, etc. – you name it, we created it.
Web Design…and Redesign
We have designed and developed several sites for SCMEP over the years including their main website (twice), the online training website, a landing page about Covid-19, and a few other microsites.

Continuous Growth And Improvement
As an agency of record, we were able to make sure SCMEP experienced sustained growth and constant improvement, concepts the manufacturing industry values highly. Their websites were always up to date and kept up with modern design. The ad campaigns drove the right traffic at the right time, increasing engagement and conversions. We kept SCMEP updated with analytic reports and regular meetings so that goals were always clear and within sight. The result? Total business growth over several years.
SCMEP Is Ready For The Future
SCMEP has been one of our longest client relationships. We love that we've been able to help them grow and stay relevant in the modern digital age. They're a valuable resource for all manufacturers and we wanted to help them spread the word. Looking back, it's amazing how much a good partnership can accomplish!
For more information on SCMEP, visit their website.